F4 Foils has built up a solid reputation with slalom race wind foils. In the professional windsurfing competition circuit, many toppers sail with the prize winning windffoils from F4 Foils. In terms of wingfoiling, the brand is even less known. F4 Foils has the ambition to change that quickly. If we look at the range of wingfoils, then that is a really nice line-up. Where the brand focuses on good performance and premium quality and workmanship. As the first F4 Foils Wingfoil we go with the F4 Foils Freeride Wingfoil with the aluminum mast on the water. Read our findings below.
The F4 Foils Freeride wingfoil is available in 2 sizes and with the different masts. The F4 Foils Freeride wingfoil is available with an 85 cm aluminum mast with top plate and an HM carbon mast of 90 cm, also equipped with a top plate. In addition, both versions can be equipped with a light weather wingset (1720 cm2 front and 340 cm2 back wing) and a medium wind set up (1400 cm2 front wing and 228 cm2 back wing). We are going to test the medium setup with the aluminum mast.
Front wing: Carbon 1400 cm2 | Back wing: carbon 228 cm2 | Fuselage: 70 cm | Mast: Aluminium 85 cm | Price: 1.499,-
The construction feels very solid. The parts fit neatly together. What is immediately noticeable is the beautiful profile of the aluminum mast that feels quite stiff on the side. In addition, the wings will be nicely finished and the profile of the front wing (especially for a freeride wingfoil) is relatively thin. The top plate is provided with a layer of felt, so that the top plate does not damage the bottom of your board. Of course, a set of T-nuts is also included for the mounting of the foil on the board. And finally, F4 Foils delivers a very neat foil bag. We think the quality/price ratio of this foil is very good.
F4 Foils aluminium mast can also be used for wind foils
A smart advantage of F4 Foils is that this mast is very easy to build, so you can also use the mast for wind foiling (in a board with a deep tuttle box). The top plate can easily be turned off by means of 2 bolts. Then you can put a deep tuttle adapter on the mast with 2 bolts (is a loosely deliverable article). The mast fuselage connection is the same for all fuselages of F4 Foils, so you can also use this mast to put together an F4 Foils Freeride WINDfoil. The wingset of the F4 Foils Freeride WINDfoil is identical to the medium wingset of the F4 Foils Freeride WINGfoil. Only the fuselage of the Freeride WINDfoil is 85 cm instead of 70 cm. The fuselages are also available separately. In summary: You only need an extra fuselage and a deep tuttle mast adapter to use this foil for both WINDfoilen and WINGfoilen. We also like to see WINGfoilen more and more often than WINDfoilers, so very interesting for those people.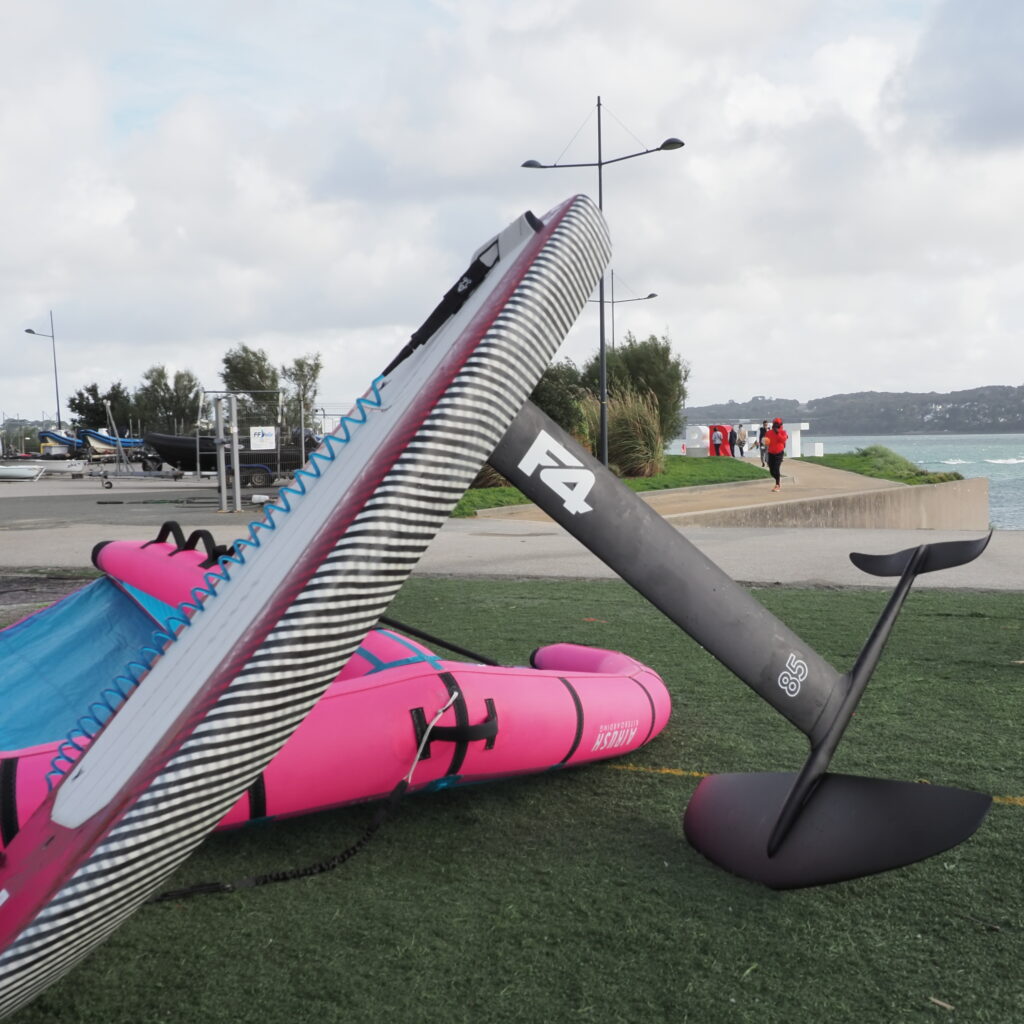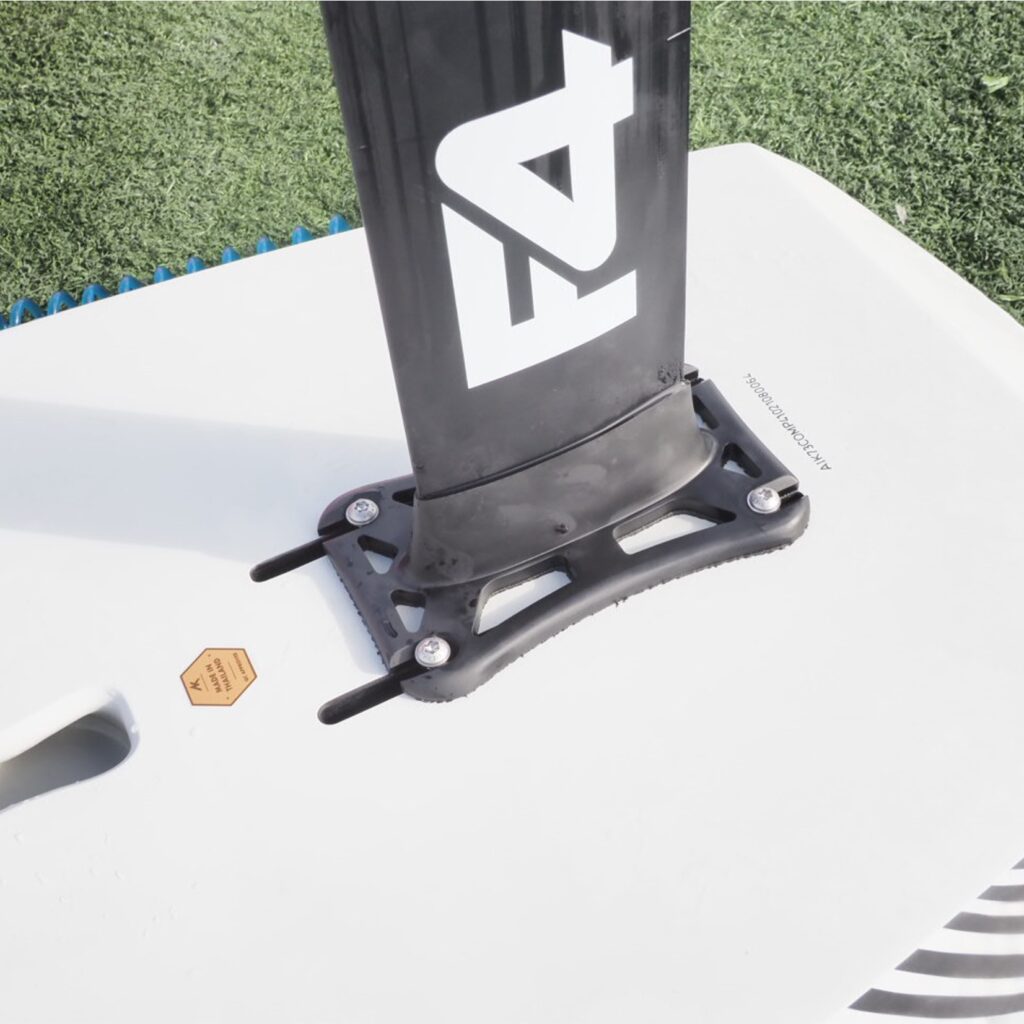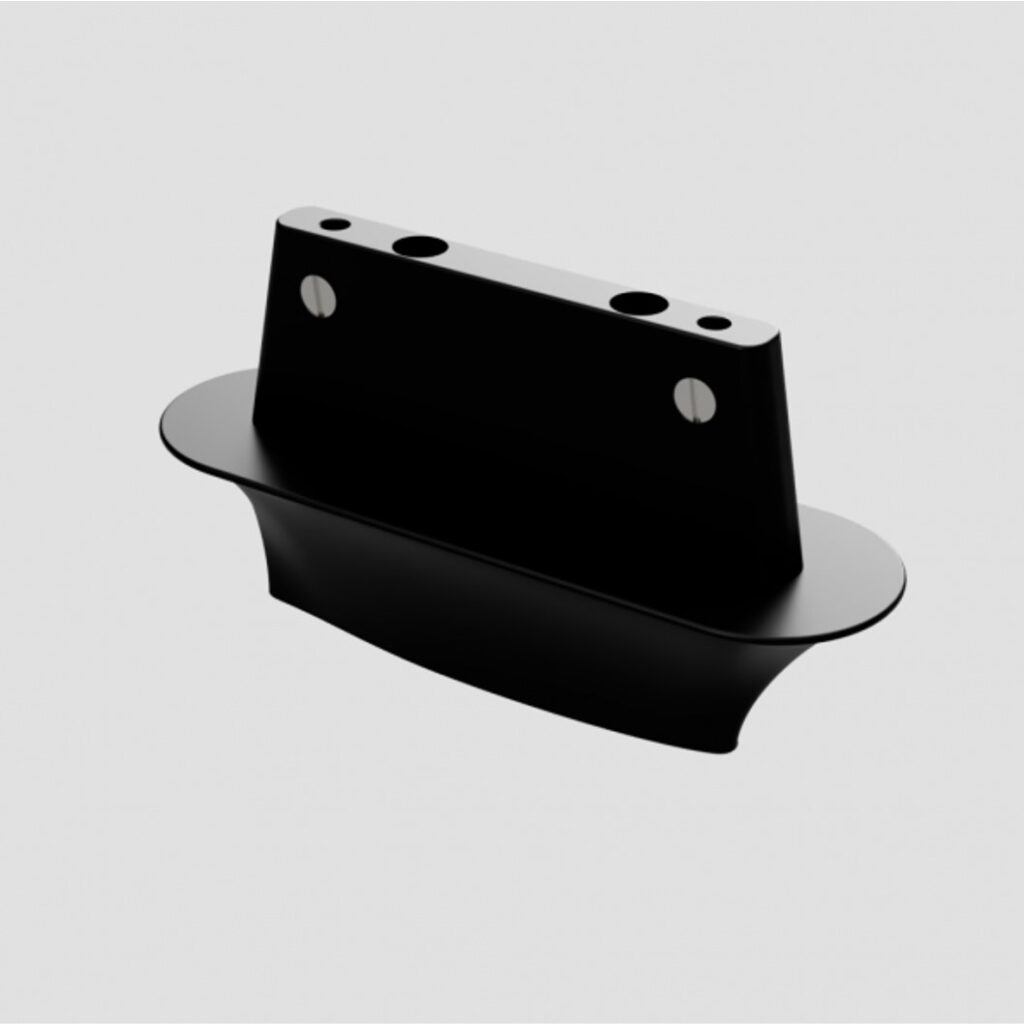 F4 Foils Freeride Wingfoil, fast and stable lift
During the European Championship IQfoil youth at the end of October in Brest we have plenty of opportunity to get started with the F4 Foils Freeride wingfoil. With wonderful autumn weather and a tight wind of 15 to 22 knots, we go on the water with the AK compact 4'10" and the Starboard x Airush Freewing 4.0m2 . Time to play in the lovely swell that stands in the bay.
In these circumstances, of course, we can easily get on the foil. What is immediately noticeable is that the foil (of course) gives good lift, but that even at higher speeds the lift remains the same. This allows you to wingfoil relaxed, without finding a new balance every time. What is also striking is that the foil is quite fast for a freeride foil with such a surface. We go well over 30 km/h without too much effort. And that while we foil with an aluminum mast!
Freeriding is of course also playing with the waves, golfing and carving. That is also very easy with this foil. The foil is quite forgiving and predictable. With a bit stronger wind, the foil becomes a bit more nervous. Then it is due to the relatively large surface area of the front wing (normally we would wingfoil with at least 25% smaller front wings in these conditions). As soon as the wind is a little less, we really feel that this is a very easy and stable wingfoil to freeriding with.
With a good flurry we went upwind, that also went very well. We get a bit of a freerace feeling at that point. Tilting the boards nicely and with good power and more than average speed we went upwind.
F4 Foils aluminum mast very good
The fine properties and good performance of this foil are partly due to the good aluminum mast. Even in the water, the aluminum mast feels stiff enough and the glide of the mast is very good. In addition, we also find the length of 85 cm just right. Even at sea with waves up to about 1 meter we had enough 'space' to wingfoil.
F4 Foils Freeride wingfoil, for whom is most suitable?
Freeride WING & WINDfoilers, with 1 or 2 extra items you have a 2 in 1 good freeride foil
For those who want to have an easy going wingfoil, but also like to be able to go a little fast
The F4 Foils Freeride has a very wide range of applications with this set up
The medium variant (front wing 1400 cm2 / back wing 228 cm2)

for lighter wingfoilers < 80 kg
if you also want to use the foil for wind foiling
medium wingfoil boards between 90 and 120 liters volume
wing size 4 to 5,5 m2

The light weather variant (front wing 1720 cm2 / back wing 340 cm2):

for sword wingfoilers > 90 kg
if you want to wingfoil especially with little wind
best on larger boards, from 120 liters
wing size from 5 m2 and larger
F4 Foils Freeride wingfoil testing
If you want to test the F4 Foils Freeride wingfoil or a similar wingfoil, you can test the most common F4 Foils with us. Send us an email for a test appointment.