Wing foils come in all sizes and shapes
Although wingfoiling is still a very new fun sport, the boards, foils and wings are already available in all shapes and sizes. In particular, there is a lot of difference in what is underwater, the wingfoil, the volume of the boards and increasingly also the wing. But also how big should the board be and how big the wing? Windfoiling Nederland helps you make the right choice.
Starting wingfoiler, the stable set up
You want to wingfoil as stable and easy as possible and you do this especially on the inland water? Then opt for a wing foil with a large surface area. Depending on your own weight between 1,800 and 2,400 cm2.
The large surface ensures that you come up quickly and can have fun with little wind. The larger surface area also provides stability. Don't expect these wingfoils to be particularly fast. With more wind, the large blades become more difficult to control, precisely because of the many lifts.
Larger board with more volume
We know from experience that the wing foils with such large wings work best in combination with a board that is also a bit larger and has more volume. Think of a length of about 6′7″ (around 200 cm) and a volume around 120 to 140 liters.
Size wing
Despite the fact that the wing is 'the engine' of the set, we are less enthusiastic about wingfoiling with very large wings (> 6m2). Simply because the handling and playful feeling is clearly less and the tips get into the water more easily. The most chosen size is around 5 m2. We recommend to go for bigger wings on your foil, rather than for a bigger wing! Only if you weigh 90 kg or more then it is recommended to purchase a larger wing (around 6 to 7 m2).
Look in the webshop for the overview of the different wingfoils.
Freeride wingfoiler, the allround wingfoil set up
Do you want to be able to wing foil in the widest possible wind range, with 1 set up? Then go for a more all-round set up. Opt for a wing foil with wings between 1,300 and 1,700 cm2.
With a good (pump) technique it is still possible to get with about 10-12 knots of wind on the foil. Once on the foil then a foil with smaller wings is a lot faster and more agile. The biggest gain is in the higher wind range, say up to about 20 knots. Then such a foil continues to act well. Many wing foils have the ability to trim the back wing, which makes the lift to be regulated.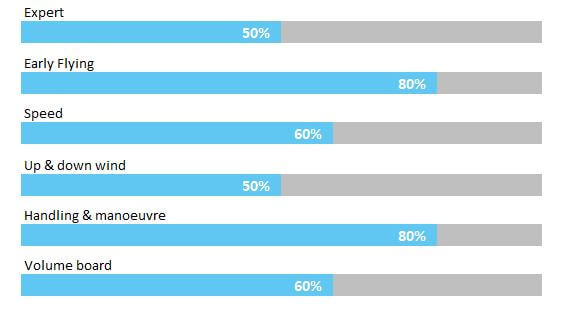 Medium size board
A wing foil with smaller wings fits best with a slightly smaller board. A board with a length of around 6'0″ to 6'5″ and a volume of about 90 to 120 liters. Then you have enough volume for a fast start and your board still feels agile.
Size wing
In this set up a wing of about 4 to 5 m2 fits best. In any case, opt for a wing with a lot of power, so you can easily get away in the lower wind range. A 5 m2 is fine to use up to 20 knots. Okay if you also have a smaller wing, this is more relaxed. But it works!
Speed wing foil set up
Do you want to be able to wing foil with a lot of wind and go as fast as possible? Then a speed or downwind set up is the best choice for you. Then choose a wingfoil with blades up to a maximum of 1,200 cm2 with a so-called 'high aspect' design. These wings are relatively wide and narrow.
The high aspect blades ensure a higher speed, but maneuverability is much less due to the width of the blades. These foils are ideal for wing foiling up and down wind.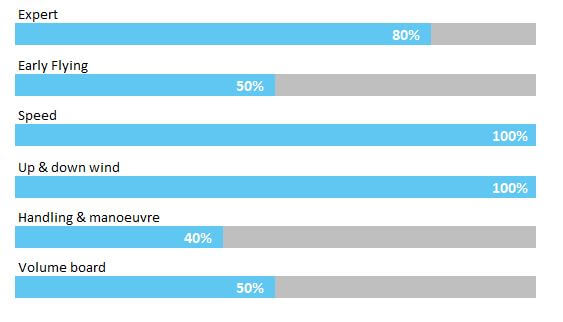 Medium size board for maximum control and early take off
In this situation, choose a board with as little volume as possible. The volume should be just enough to start. Often a board of 70 to 90 liters is sufficient. Speed and control are the main properties that are important in this set up.
Small or medium size wing
The surface of the wing strongly depends on the conditions. To get the most out of your set in every situation, you also need more sizes. Think of a range of 4 m2 to 7 m2. A lot of power and a stable profile are important properties for speed wingfoilen. Most brands now also offer wings that are specially designed for speed wing foiling.
Freestyle – Wave Wingfoil set up
You've probably seen the fimps over the trics. These are the real acrobats. Handling and being able to make the moves easily is the most important thing
So-called medium aspect sheets fit best with this discipline. The round shape of the blades makes the set very manoeuvrable and also a lot of lift to get to the foil quickly or to keep enough lift after landing. The dimensions of the blades vary from about 1500 cm2 for little wind to about 1000 cm2 with more wind.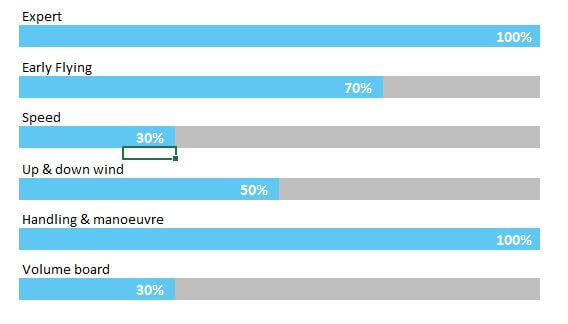 Very compact boards with little volume
The more compact the board, the more manoeuvrable the board and more 'feel' that the rider gets with foiling. The boards are often smaller than 5'2″ and have a volume of between 40 and 80 liters. This material is therefore really reserved for the (very) experienced wind foiler.
As small as possible wing
The same applies here as for the boards. The smaller the wing, the easier it is to successfully perform a move. The experts often have multiple sizes ranging from about 2 m2 to 5 m2. A lot of power and a compact feel of the wing are important features for a freestyle-wave set up.