That foiling is hot, it's clear. After the windfoil we now see that the wingfoilen or the 'winging' is gaining popularity much faster. Curious as we are, time to try out this way of foiling and experience for ourselves whether it is something and how this is different from wind foiling.
Wingfoilen mix of sup, kite, wavesurf and wind foiling
This is the umpteenth way in which the enthusiastic water sports enthusiast can get started with a wingfoil. It is a mix of supping, kitesurfing, wave surfing and of course windfoiling. Or can be seen as a revival of kitewing.
Wing foiling is first and foremost a fun sport, so the focus is less on speed and racing and more on 'just going' a bit more on the feeling of freedom. 'just' relaxed foiling. Nice such a new craze but is it worth a try?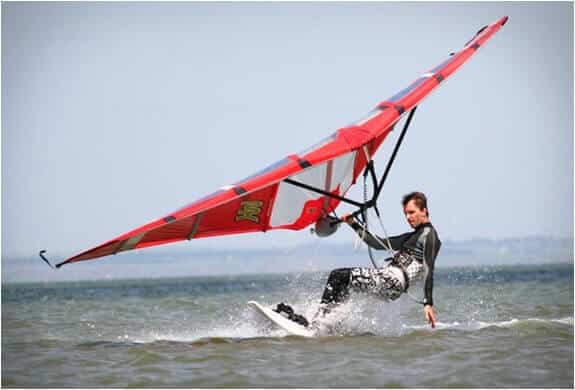 Our first impression, how do you position the wing?
First of all, our own experiences on the foil. We take a Naish Wing Surfer 4 m2 i.c.m. with a Naish Hover 140L board with a gusty wind force 6. With the necessary YouTube videos in preparation, we will compete with this set. Smooth departure is not really there at first and also the posture on the board feels quite unnatural. How are you holding that stupid "kite" now? And oh how exhausting it is to keep that wing above your head, especially if the wind is a little less, you have to hold the wing up more on your own. To generate enough power with the wing is a real challenge and in doing so almost as many meters are swum as foiled. Keeping balance, building up enough speed and coming up are a bit disappointing. It is clear to look for the right technique and perform actions. Finding the right position is searching in the beginning and in the first few years all the previous windfoil/windsurfing experience suddenly seems to have disappeared without a trace. As soon as we get on the foil we notice that our experience helps us now. On the foil we do get the foil feeling back and we are stable.
We proudly show the first videos of the winging at home. Spontaneously we get the reaction that it looks stupid with such a big kite! Somehow we understand the criticism because it doesn't look very tough the first session. But that part of the learning process is where you make a lot of progress. It is possible to lear winging quickly and therefore hugely motivating to continue. It's hard work, but hugely rewarding.
Pumping is rewarded
Even more than with windfoil you need speed and pressure in the wing to get going. An active posture and a good pumping technique are crucial to build up enough speed to get on the foil with little wind. We have already seen several people who have not come further than bobbing and swimming. So pumping is a requirement in low wind!
Wing foiling, much more sense of freedom
We've already written an article about why windfoiling is so addictive. With wing foiling we experience a factor 2 more freedom. We are standing much looser on the board and because the wing is to a large extent above your head, we experience more space around us. In addition, wing foiling is lighter than wind foiling. We are also less focused on speed, but rather look for more the waves to play with. For the time being it is not going as fast as the wind foil, but that will be only a matter of time before wing foil races will be held. Or does it look too much like kite surfing?
We are already working a bit longer and we still experience many similarities with the other forms of foiling;
On the foil it feels very light and is also nice and quiet
You just need a little more wind to get up, but once on the foil you keep going even with very little wind
Foiling up wind is also really superb with wing foiling
With little wind, you'll quickly pass through because of the low resistance
Also keeping balance, checking the lift requires attention and an active attitude
You also need deep water
Much less hassle with wing foiling
What is particularly a relief on the side is that wingfoiling is much less of a hassle and less. The wing can be pumped up with a good wing pump in about 30 seconds and is then ready for use. The Starboard wing foils are so ingeniously assembled that you only have to screw the blades on them. The wing foil board is shorter, narrower and lighter than a surf board, making your board also easier to carry. All reason why many kiters have gone kitesurfing. With wing foiling you have 2 additional advantages. You don't have a problem with the lines. Grab Wing and get ready. In addition, you have a board where you have enough volume to float back. It's so safe.
The only thing we have to get used to is the two leashes that are attached to it. It gets used to it, but those things are still getting in the way. Without leashes on the water is really unwise. You lose your wing or board when you fall.
What do we think about wing foiling?
We've been sitting on it for about 100 hours now, and flying around. Time to draw our conclusions yes, we're secretly like windfoiling very well. Is it more fun than wind foiling? We can't agree on that yet. What we do agree on is that wing foiling will stay and that it will become more popular than wind foiling, because;
It's less hassle than wind surfing or wind foiling
We see kiters switch to wing foiling
The playful and feeling of freedom is unparalleled
It's easier to learn (with the right instruction)
You don't have to be able to windsurf