Starboard already has a wind foil board for every segment. Still, there was room for another board, the Foil X Wing. With this hybrid board you can do both wind foiling and wingfoiling. Often these types of 'compromise boards' are not very good. We go out on the water with the Foil X Wing 145 in the Starlite Carbon version. Read in our review whether we get a smile on our face from this board.
Starboard Foil X Wing Starlite Carbon 125: 190 cm L | 67 cm W | 125 L volume | 9.2 kg | € 1.899,-
Starboard Foil X Wing Starlite Carbon 145: 193 cm | 71 cm W | 145 L volume | 10.0 kg | € 1.899,-
Starboard Foil X Wing Wood Sandwich 125: 190 cm L | 67 cm W | 125 L volume | 8.8 kg | € 2.479,-
Starboard Foil X Wing Wood Sandwich 145: 193 cm | 71 cm W | 145 L volume | 9.3 kg | € 2.479,-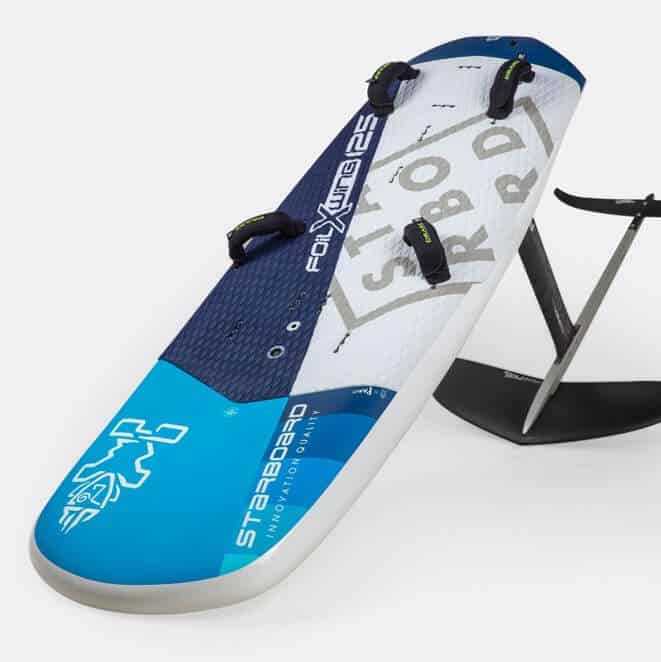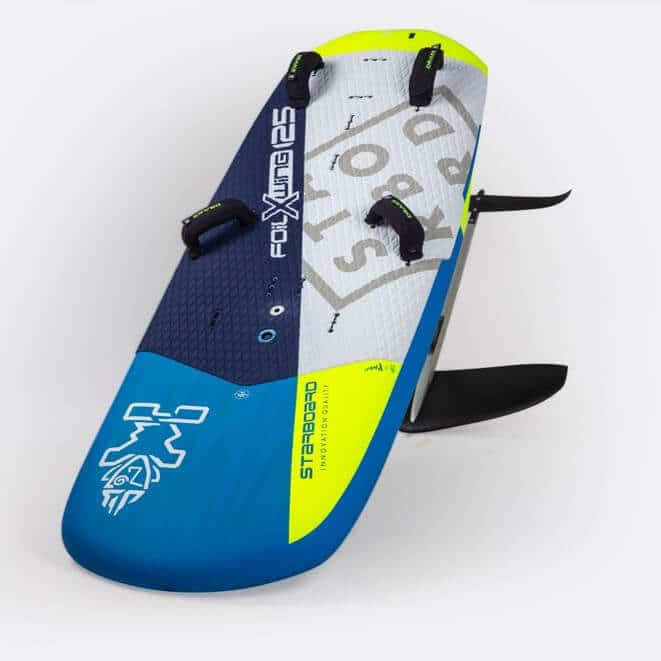 Starboard Foil X Wing smartly set up
If we look at the boards, we immediately notice that they are very compact. With a length of up to 193 cm, they have more the length of a large wingfoilboard than that of a wind foil board. The boards come with 4 foot straps as standard. On the board there are footband plugs in the position on the back of the board for wind foiling and more forward for wing foiling (if you want to use foot straps for that). As with most wingfoilboard, most of the top of the board is covered with pads for grip and extra comfort.
In the place where you normally expect a mast rail, there is simply a threaded hole to tighten your base. And all the way on the back is an eye to attach your leash with. We think both the Starlite Carbon version and the Wood Sandwich look fantastic.
The Starboard Foil X Wing model 2021 had both a deep tuttle box and a double US box. Unfortunately, we no longer see the deep tuttle box in the 2022 model. Probably cost and weight savings. We think this is a pity, since you really have to have a foil with top plate connection that you can not only play nicely with, but also wind foil with. That choice is there, but is more limited. Within the Starboard range there is only the Starboard Super Cruiser that is suitable for both wind foiling and wing foiling. From model 2022, the Starboard Super Cruiser with both a top plate and deep tuttle connection is available.
If we look at the specified weights, we are a bit afraid that wingfoilen in particular will feel clumsy and unwieldy. From experience we know that some extra weight of a wind foil board is less bad than a heavy wingfoilboard.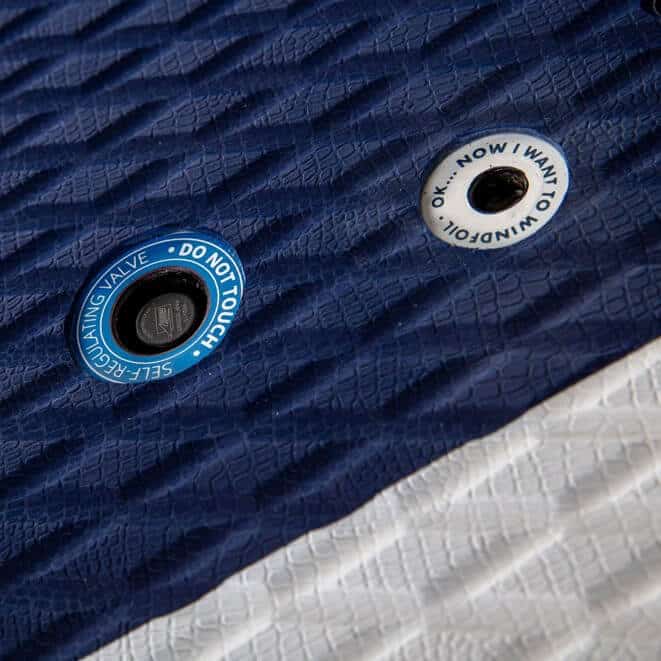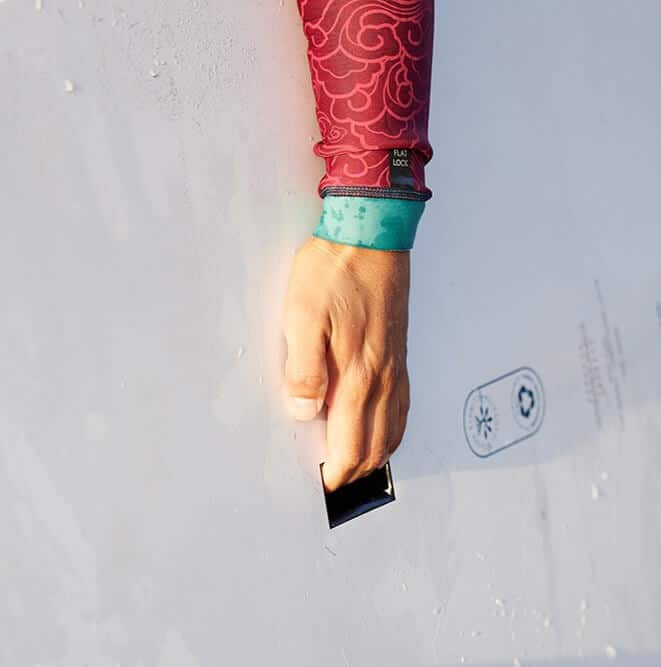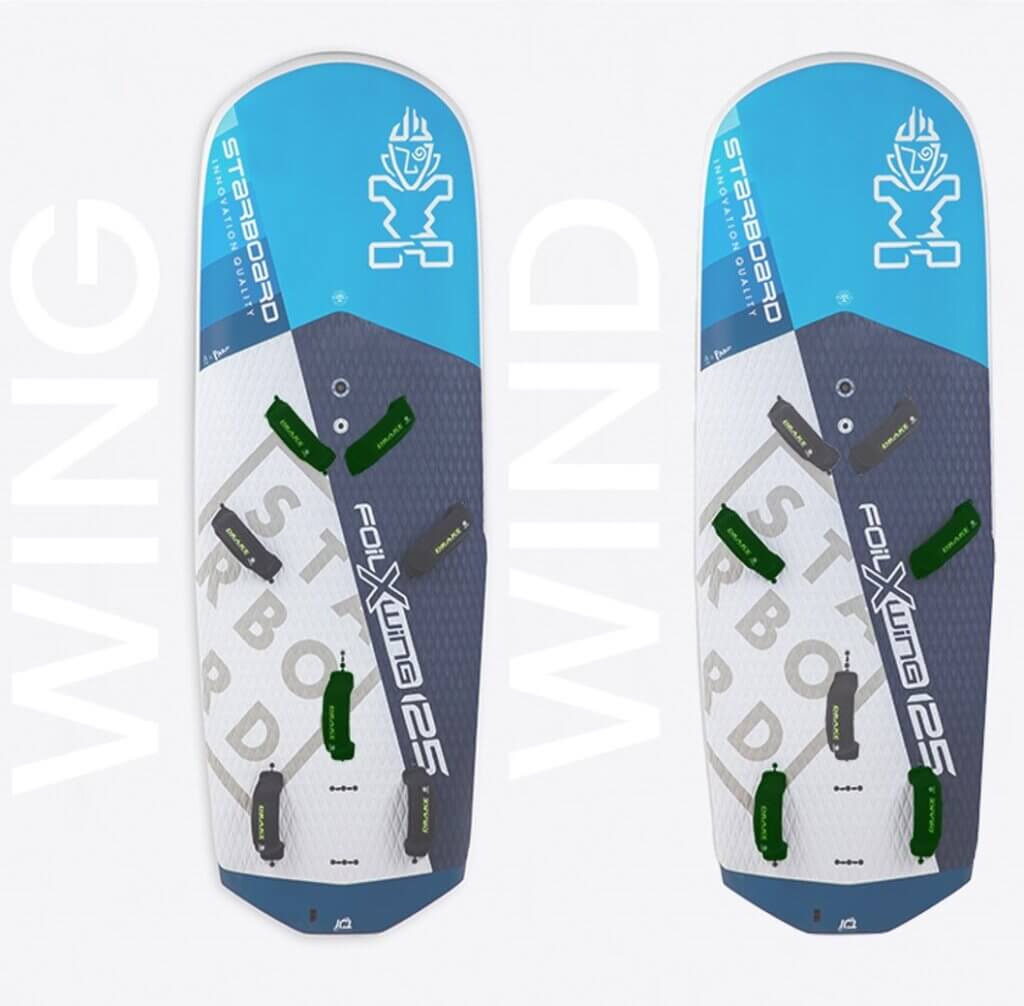 Shape of Foil X wind foil board
The attentive reader has probably already seen that the specs exactly match the Foil X, the freestyle oriented wind foil board. This board is indeed exactly the same, with a number of 'elements' added to the board to be able to wingfoil.
Who is this board for?
We think Starboard has developed this board for the (novice) recreational wind foiler, who occasionally wants to wind foil and occasionally wingfoil. Think of families who would like to take one board with them on holiday or to their favorite place. One board that is easy and accessible for someone who wants to have as much fun as possible with as little material as possible.
Wingfoiling with the Starboard Foil X Wing 145
We go with about 14 knots of wind with a SAB foil (frontwing W790 / 1500 cm2) and a 4.0m2 wing first on the water. We've just been swinging the super light and fine AK Phazer V2 , so we expect to take a big step back. To our surprise, the board gets going surprisingly easily (we are quite underpowered with the wing and foil) and is gone in no time. In the air, the board feels relatively light and playful. The maneuverability is certainly super for such a board. Carving and occasionally catching a wave is really fun. The hijacking is also very steady. We have a lot more fun than on the dedicated wingboard 7'0″ which really feels more bulky (and is also longer). Gradually we really get a big smile on our face from this board.
Before we went on the water we put the foot straps in the position for wind foiling. During wingfoiling we have absolutely no problems with the foot straps. So if you plan to use this board for both wind foiling and wingfoiling, you can leave the foot straps nice when you go wingfoiling.
Wind foiling with the Starboard Foil X Wing 145
We change the wingfoil for the Starboard Supercruiser wind foil and put a wave sail on the board and go back on the water. Even now we get going nice and fast and we come up quickly. In the air, however, we immediately notice the nervous properties of the board and foil. We immediately recognize the feeling 1:1 of the Starboard Foil X. For a wind foil board, a width of only 71 cm is relatively narrow. In addition, the base is relatively far back. As a result, you come up nice and fast, but the stability is less. All this is reinforced by the freestyle features of the Super Cruiser. In short, we get away quickly, but the wind foiling is really not as relaxed as, for example, with the Starboard Freeride 150. Hijacking also requires more balance and coordination than on the broader boards. If you are a freestyler, the character will appeal to you.
We swap the Starboard Super Cruiser for the Starboard Freeride Evo wind foil (ed: we used model 2021 for the test, which still has a deep tuttle box). This combination feels a lot more stable, although the character remains a bit nervous. In summary: if you are looking for an easy stepboard to wingfoil, then the Starboard Foil X Wing 145 is a great board. If you are going to wind foil, then this board is more suitable for the more experienced and freestyle oriented wind foilers.
Starlite Carbon vs Wood Sandwich
Always consider whether a weight saving of up to 3/4 kg is worth an extra investment of € 570. If you find wingfoiling the most important, then in this case we think it is worth going for the lighter version. Take-off will be even easier and the feeling will be even more direct and playful. If you are going to do wind foiling in particular, we would opt for the stronger Starlite variant. Weight plays a slightly less important role with wind foiling, but an extra strong board can be useful.
Conclusion experiences with the Starboard Foil X Wing 145
The board really surprised us in terms of wingfoiling in a positive way. We found the board better than the wingboard 7'0″. We even decided to use the board for our lessons! We were less enthusiastic about the wind foiling. The nervous nature of the board (and the combination with the foil) makes wind foiling relatively speaking a lot more challenging than wing foiling on this board.
If you mainly want WINGfoilen and occasionally WINDfoilen, then this is really a fantastic board. Especially if you combine this board with the Super cruiser wind foil or freeride wingfoil (front wing preferably no larger than 1700 cm2) then you will come off the water with a big smile every session. If you especially want WINDfoilen and occasionally WINGfoilen ask yourself if the character of the board suits you.
We have not tested the 125 liter variant, but we think that wind foiling will be even more challenging and we expect that it will not matter very much for the wingfoil feeling. We would always go for the 145-litre variant. And if the budget allows it for the Wood Sandwich version.
Want to try out the board yourself?
We have the Starboard Foil X Wing 145 in the Starlite Carbon version available for rental or testing. Make an appointment below to test this board.
Make a appointment to test at Windfoilen Nederland