Zeeko is an unknown brand for windsurfers. Zeeko is a brand known for kites, kiteboards and kitefoils. That is why the step towards wind-making for the brand is a small step. has introduced an 'easy going' entry level windfoil with matching board. This set-up is really focused on freeride. The wind foil costs € 950,- and for the board Zeeko wants you to pay € 1,700. So together € 2,650. A big investment! Time to test this wind foil in combination with the specially developed board.
The Zeeko Alloy Windfoil
The Zeeko Alloy wind foil has a 70cm aluminium mast with fiberglass wings. The fuselage is also made of aluminium and is about 65 cm shorter than many other fuselage. The front wing has an area of 530 cm2 and the back wing we estimate about 300 cm2 (this data is not mentioned by Zeeko). The wind foil also has a vertical fin, for more stability. The first impression on dry land is all in all positive. Although the surface of the wings seems to be a bit on the small side.
The Zeeko Windfoil board
This board is only 2.15 meters long and 78 cm with 120 litres volume and weighs a tight 9 kg. In addition to a deep tuttle box, this board also has 2 long US boxes to assemble the fin and possibly slide forward (compared to the deep tuttle box position). On the board it says that you have to be able to sail on this with sails between 3.7 m2 and 8.5m2. We'll see if we can.
Catapults through too short nose
Time to get out of the water. With a 6.5m2 freeride sail we have board in the air. The board is planning quickly, especially given its limited width and volume. And from the planning, you can easily pop the board into the air. With these freeride boards, you're really entitled to the board. Also with this board. The set can be described as 'easy going'. Easy, light-footed and predictable foil behavior. The mast is long enough to find the elevation balance at first, without the wings coming out too quickly. That's a good thing, because if you do make a nosedrop (and as a novice wind foiler this happens regularly), then geheid follows a big catapult. The nose is too short and has too little volume to keep the nose above water.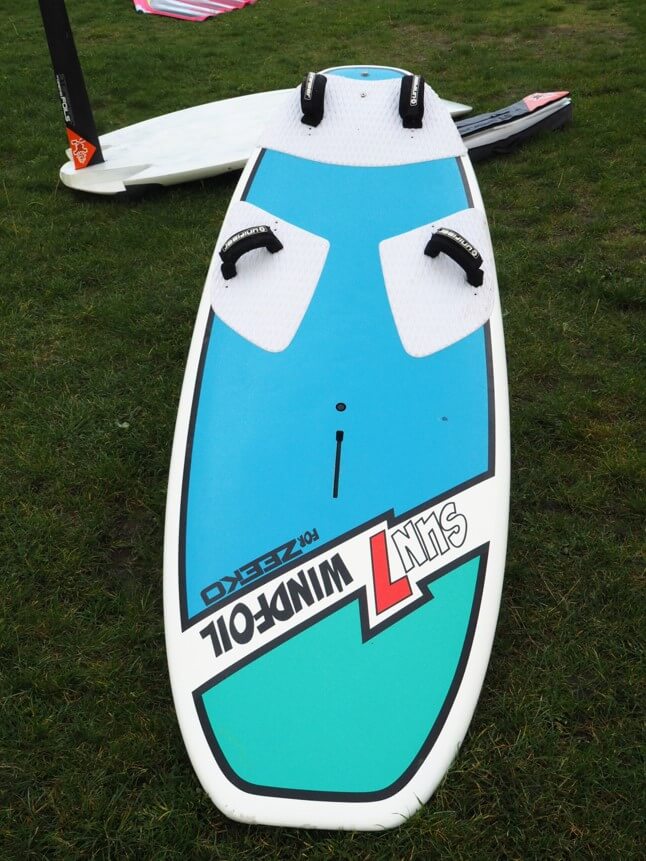 And with the pull up of the sail, two things stand out right away. The board is relatively smooth with bare feet and due to its low volume also relatively unstable. With a sail of 6.5 m2 it's all fine to do. But we expect that a sail of about 7.0 m2 in practice is really the max that is effective on this board. Easy going is also the speed. A race-oriented wind foil like Starboard's is many times faster (but also harder to learn it), but good weather requires a lot more concentration and you have to want that as a wind foiler. Even if the wind sinks away, the wind foil of Zeeko continues to keep enough pressure. Best special, since the wings are relatively small. The short fuselage is probably debit to this.
Playful behaviour by short fuselage and narrow board
The short fuselage and the narrow board make the set feel playful and agile. Similar to a waveboard. Steering is easy and the jibes are also easy. It's easier to jibe than with a more race oriented wind foil. On the other hand, the narrow back of the board also ensures that you are not super stable. That takes some getting used to when you come from a wide wind foil board.
Our conclusion on Zeeko windfoil & board
We got a nice impression of the Zeeko wind foil. A wind foil that flies quickly with a playful and forgiving character. Ideal for windsurfers who are used to surfing a freeride board or waveboard. We're less excited about the board. Due to its limited dimensions and volume, it requires quite a few skills from the novice wind foiler. In addition, we regret that a nosedrop follows by definition with a catapult. From experience know what this is not going to help in gaining self-confidence as a novice wind foiler.
Sign up for our newsletter