In recent years, a trend towards inflatable boards has started from the SUP brands. In the meantime, there are already a number of windsurfing brands that also have inflatable boards. Now the relatively unknown brand Manta introduces a series of wind foils with an inflatable board. Inflatable making a surfboard, and therefore also for wind foiling, has 2 advantages. The first advantage is that you can easily take the board and store the second advantage we see is that an inflatable board is less susceptible to a crash than a superlight carbon board. Let's look further at what innovations Manta is going to offer us.
Series of wind foils
Lately, news reports of wind foils and brands that are collapsing on this new development have been flying us around. So does Manta's. Manta has a range of 6 different foils for SUP, Kite and windsurfing. Of which 4 with an aluminum mast and 2 of Carbon. What's interesting is that they have 1 variant that's suitable for both wind foiling, supfoils and kite foiling. This is the variant that we will soon test (only as a wind foil by the way). The pricing of the foils is sharp, around €700,-. For that you really get a lot:
2 x an aluminium mast of 75 and 90 cm
2 sets of wings made of G10, with different surfaces
2 fuselages of different lengths
So this gives you a wind foil where you can experiment and configure settings that you're most comfortable on. An update with our experiences about this wind foil will of course follow soon!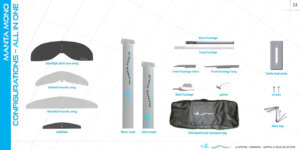 Manta Inflateable SUP – wind foil board
Maast the smart flexible wind foils set also catches the eye of the inflatable board. this too is a hybrid board. Suitable for wind foiling and supfoiling. A very short board of only 2.25 cm and 80 cm wide with a huge volume of 170 litres. Light foot tires on and 2 deep tuttle boxes (1 suitable for wind foils and 1 for SUPfoilen). In terms of weight, the board is similar to a formulaboard/light weather slalomboard. But with a lot of volume.
The big question is, is this going to work? Important of course, the stiffness of the back of the board. If there is a lot of torque on the board, this will have a detrimental effect on stability. In addition, the length stiffness is also important (between the mast and the wind foil). All the weight of the rig and what you also hang is more than 1.5 meters before the wind foil (which you are actually carried by). We will soon experience this ourselves soon.
Below you can see a nice promo video by Manta about this board and of course also the rest of the range.
Sign up for our newsletter