Wing skating spectacular for everyone
Wing skating is a nice new form of wingfoilen, but on a longboard (a kind of skateboard). The wing you use ensures that with the least wind already gets a lot of momentum. With a little sense of balance, you can master wing skating. Under the guidance of professional instructors, you will receive tips and tricks to master wingscating quickly and safely. Before you know it, you're making the most beautiful moves!
You will learn with us on top material from Starboard X Airush, Ensis Wings and Atom Longboards in groups of up to 4 people. Of course, we also make helmets and knee pads available for extra safety.
Cost and duration of wingskate clinic per participant
The cost per participant for a clinic of 1.5 hours is € 45,-. The wingskate clinics will continue, with a minimum of 2 participants. This includes;
The use of the wingskate and protection material is of course included.
Each participant's own wingskate set
Helmet and knee pads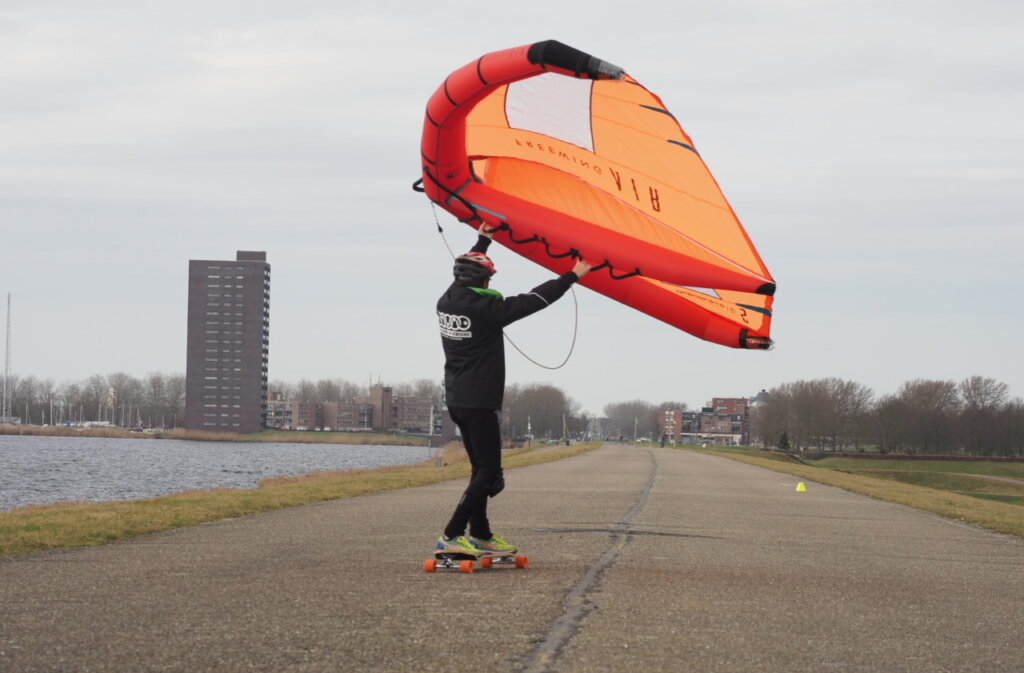 Wingskate clinic data
Wing skate clinics are given at more than 7 knots of wind (about 3 bft).
Saturday and Sunday
Wednesday and Friday afternoon
From December to the end of March we do not give clinics
Start times clinics
Morning clinic: Start 10.30 am (only on weekends and holidays)
Afternoon clinic: Start 14:00 (weekend and Wednesday and Friday)
Location of wing skate clinics
The location where the clinics are held depends on the wind and wind direction, but are always located in or near Lelystad. The final location will be communicated by e-mail no later than the evening.
Design of the wingskate clinics
Explanation of how wing works
Theoretical instruction on how to hold the wing
Instruction on which directions you can wing skate in relation to the wind
Practice skate boarding and 'stepping' to gain momentum
Most of the clinic you go wing skating, where you learn;

How to get ahead as quickly as possible
How to turn corners
You can also experiment with trics yourself
Payment methods
Paying on location is easy with PIN. In our webshop you can pay safely in the most common ways.

Up to 4 people per group
In our groups, up to 4 people participate in the clinics at the same time. This allows us to give everyone enough attention to learn wing skating in a good way.
What if there's too little or too much wind?
If the wind forecast is between 7 and 16 knots, the lessons will normally continue. If the wind forecast is less or more, we cancel the clinic. We will let you know by e-mail the evening before the clinic (around 18:00) whether the clinic will take place. If the lesson does not take place, we will schedule a new clinic.
Right clothing
Make sure you wear solid/sturdy and easy-to-sit clothing and shoes with good grip (preferably sneakers). In cold weather you can also wear thin (fleece) gloves to keep your hands warm.
When booking a wing skate clinic you automatically agree to the terms and conditions of Windfoilen Nederland.
Frequently Asked Questions
Do you have to be able to windsurf or kite to be able to wingskat?
Is a wingskate clinic heavy and intensive?
What are the chances that you will fall hard?
Wingskate clinicdfoil nice to give as a gift
Tip! Give a wingskate clinic as a gift to someone. You can purchase a wingskate gift voucher from us. The lucky one can then book the wingskateclinic with us. Look here for more information about the gift voucher.
Experience the thrill of wing skating