Wind foil boarding day 24 September, only € 69,-
Good news! Saturday, September 24, 2022 we will organize another wind foil boarding day. Get to know this new way of windsurfing and experience what it's like to fly almost 1 meter above the water.
Program Wind foil step up day
During this wind foil step up day you will get acquainted with wind foiling in clinics of 1.5 hours. After a short introduction, you will go up the water with the instructor and make your first flight meters guaranteed. You do these lessons on a wind foil and board of Windfoilen Nederland. We have top material from Starboard (board and wind foils). The costs are only € 69,- including the use of a wind foil board, wind foil and helmet.
We give wind foil instructions under the guidance of experienced and enthusiastic instructors. In small groups of a maximum of 4 participants you will receive professional instructions and you will get acquainted with wind foiling in a safe and good way. Sign up now for one of the wind foil clinicis! Pay attention to Full = Full!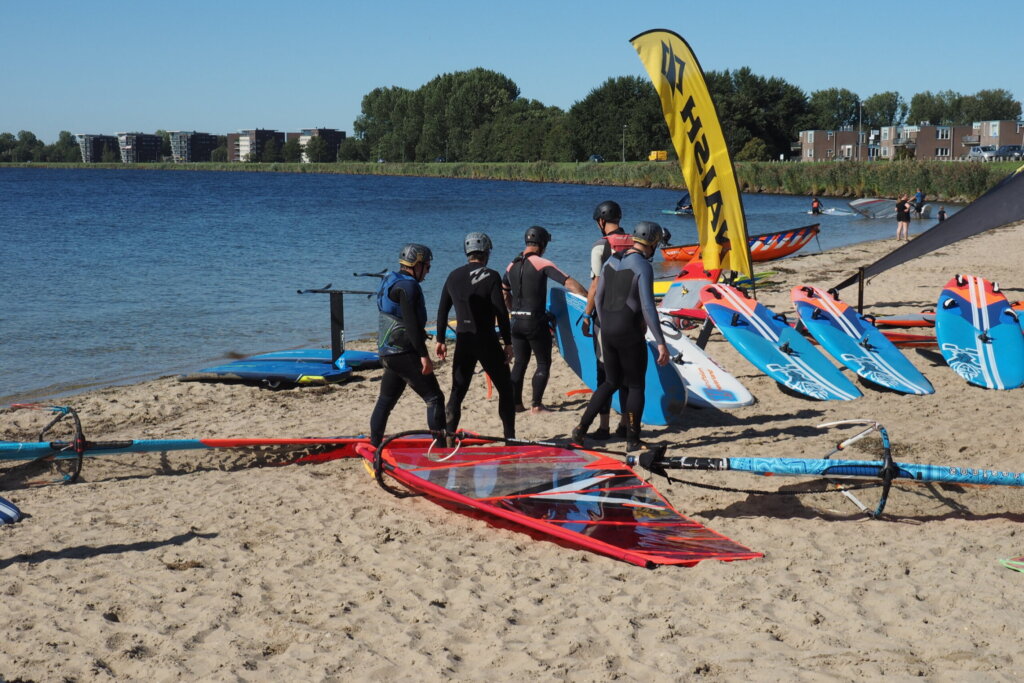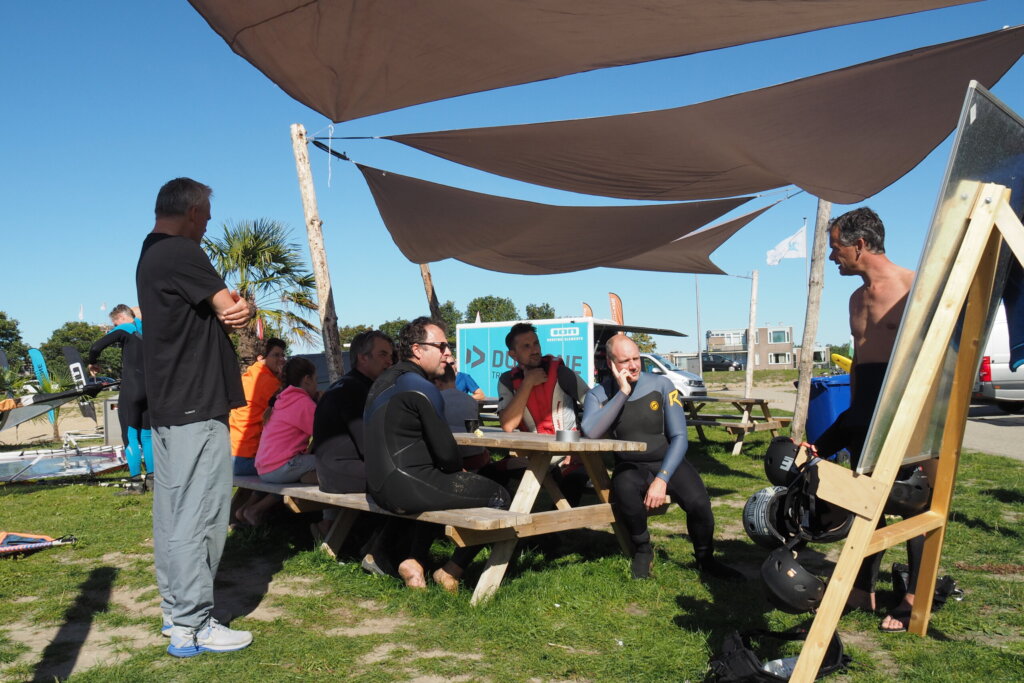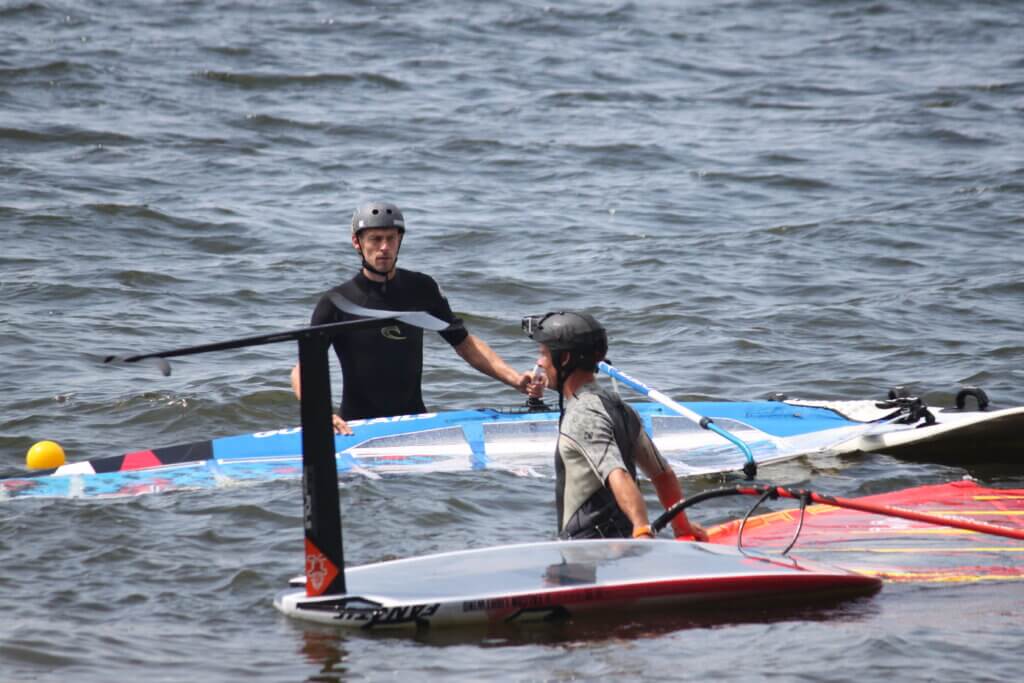 Set up clinics wind foiling during step up days
Especially for the wind foil boarding day, we organize various wind foil clinics both in the morning and afternoon for which you can register.
Times wind foil clinics during wind foil step up day
Clinic 1: start 10:30 am to 12:00 pm
Clinic 2: start 13:00 to 14:30
Clinic 3: start 15:00 to 16:30
Important:

To be able to start right away, it is important that you already have your wetsuit on before the start of the clinic and that you have already rigged your sail. Consult with the instructor in advance what a suitable sail is for the clinic.
Rent rigging, suit and shoes
You follow the clinic with your own rigging! If you do not have suitable rigging, you can rent it from us for only € 21,-. You can also rent a suit and shoes for only € 7.50. Indicate this when booking the clinic, and we will reserve this for you.
Maximum number of people per group
In our groups, up to 4 people participate in the lessons at the same time. This allows us to give everyone enough attention to master the wind foiling.
Cancellation clinics
If the wind expectation is between 10 and 20 knots, the clinics continue. If the wind expectation is less or more, we unfortunately have to cancel the clinics. We will let you know by e-mail the evening before the clinic (around 18:00) whether the clinics will take place.
Address lesson & rental location
Windfoilen Netherlands- Camp & Surf Lelystad
Markerstrekdam 2, 8242 NA (Hookipa Dijk) Lelystad, The Netherlands.
Netherlands
Tel: +31 6 19937879
Email: lessen.verhuur@windfoilen.nl
There is sufficient parking space at this location.
Payment methods
Paying on location is easy with PIN. In our webshop you can pay safely in the most common ways.

Set-up of the wind foil clinic:
Start with explanations about the operation of wind foils
You will be instructed about your posture during wind foiling and how you will fly
Most of the lessons take place naturally on the water, where you learn;

How to get your board up in the air as soon as possible
How to keep stability during wind foiling
How to make an emergency stop (very important to learn, flying is something very different than planning :))
We'll give you the guarantee that you're making the 1st flight meters on the wind foil. You can stick to that!
The group consists of up to 5 participants. The instructor goes up the water with you and guides you on the water. Wearing a helmet is mandatory during the clinics. The use of a helmet is included in the price.
Tip for rigging during lessons
On average, wind foiling makes you use a sail that is 1 m2 smaller than you're used to on your surfboard. With wind force 4 you can already use a 6.5 m2 to get some great wind foils. In addition, learning to wind with a sail without cambers is the easiest. Please note this when you bring your own material for the wind foil step-up day.
Frequently Asked Questions
Do you need to be able to windsurf?
What is the minimum windsurfing level you need to have to learn wind foiling?
I haven't surfed for a long time, can I participate in a wind foil?
Are the wind foil clinics heavy and intensive?
Our lesson and rental location Camp & Surf Markermeer Hookipa Beach
Hookipa Beach Lelystad ideal for foiling
The location where we give our lessons and where you can rent foil equipment is ideal for wind foiling.
On the grounds of Camp & Surf Markermeer we would like to welcome you warmly. All facilities are available for a great day out.
Via a sandy beach of about 20 meters wide you can easily enter the Markermeer. At this location it is sufficiently deep everywhere for wing or wind foiling. In addition, we do not suffer from aquatic plants in the summer season.
Our address is: Markerstrekdam 2, 8242 NA (Hookipa Dijk) Lelystad.
Free parking & other facilities
There are plenty of places in front of the recreation area where you can park for free . There is plenty of space to rig. There are also sufficient sanitary facilities at the location
On the grounds of Camp & Surf Markermeer there are 55 camper spots to possibly spend the night. At Camp & Surf you can also rent SUPs or regular surfboards.
Within walking distance (about 10 min walk) is the largest Fashion outlet in the Netherlands; Bataviastad. This way there is enough to do for everyone.
Also experience the feeling of being able to fly