Learn to | guaranteed wingfoiling 5 lessons – € 399,-
We give wingfoil courses under the guidance of experienced and enthusiastic instructors. In small groups of up to 4 participants, you will receive expert instruction and learn wingfoiling in 5 lessons! We are using the best equipment from Starboard (board and wingfoils) with Airush and Ensis Wings and Wingfoils. The lessons last 2 hours. During the lesson, the instructor goes on the water to give instructions.
Of course, every participant has access to his own wingfoilset during the lessons. The use of the wingfoilset and a helmet is included in the price. In addition, a wetsuit can be rented. The 5-day wingfoil course is structured as follows;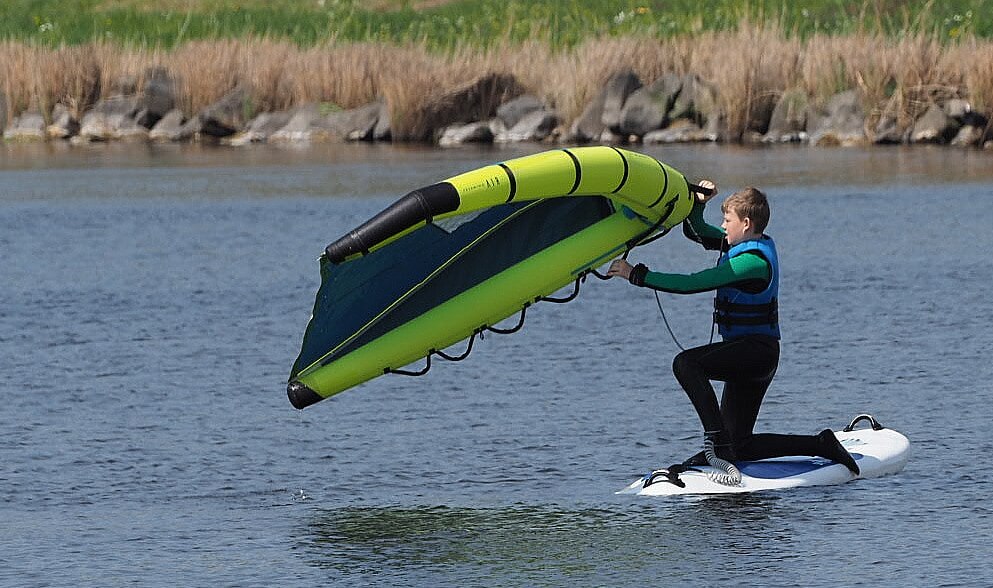 Lesson 1/5
During the 1st day you will learn to stand stable on the board and learn how to hold the wing to make speed.
Theory operation wing & pump technology
Holding & being able to turn over wing
Get on and stand up
Maintaining balance
Sailing away and steering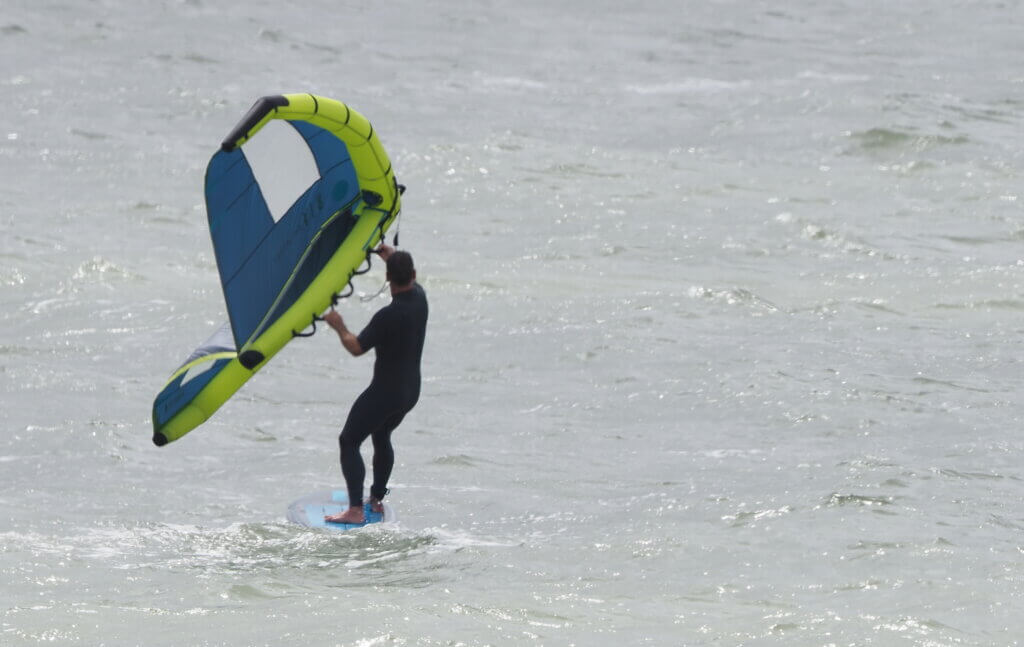 Lesson 2/5
Lesson 2 is all about making speed, further improving handling, stability and practicing turning.
Getting maximum speed out of the wing
Practice pumping
Turning (switching and hijacking)
Stability at higher speeds
Practicing pump movement with wing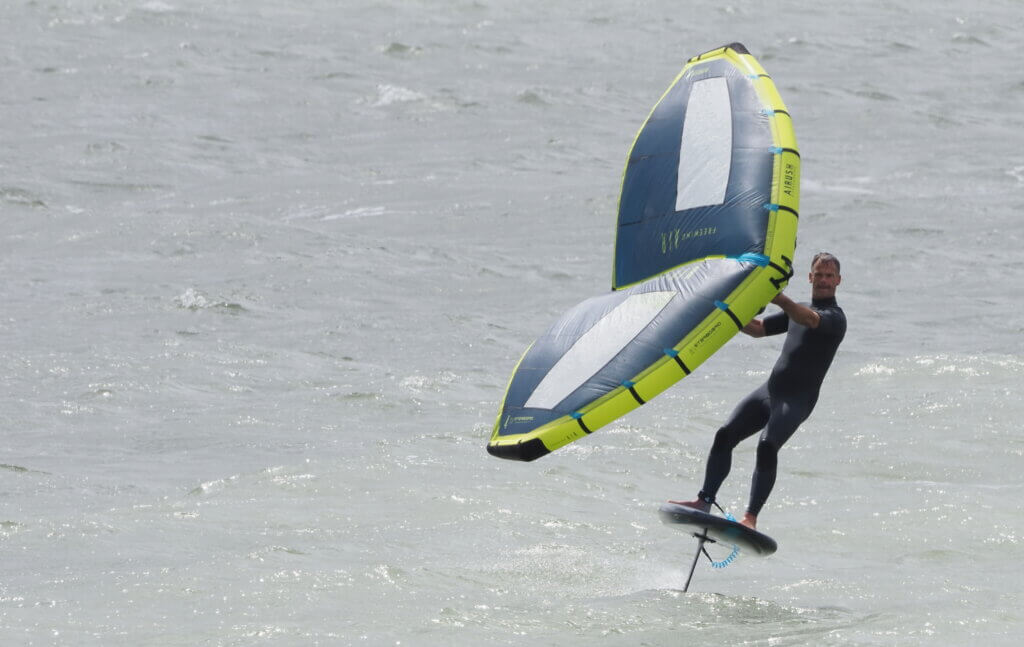 Lesson 3/5
Ready for take off? During the lesson, the emphasis is on making enough speed to actually get 'on the foil'.
Theory of how to stay up and stable in the air
Making enough speed
Practice getting up
Finding stability in the air
Further practice with effective pumping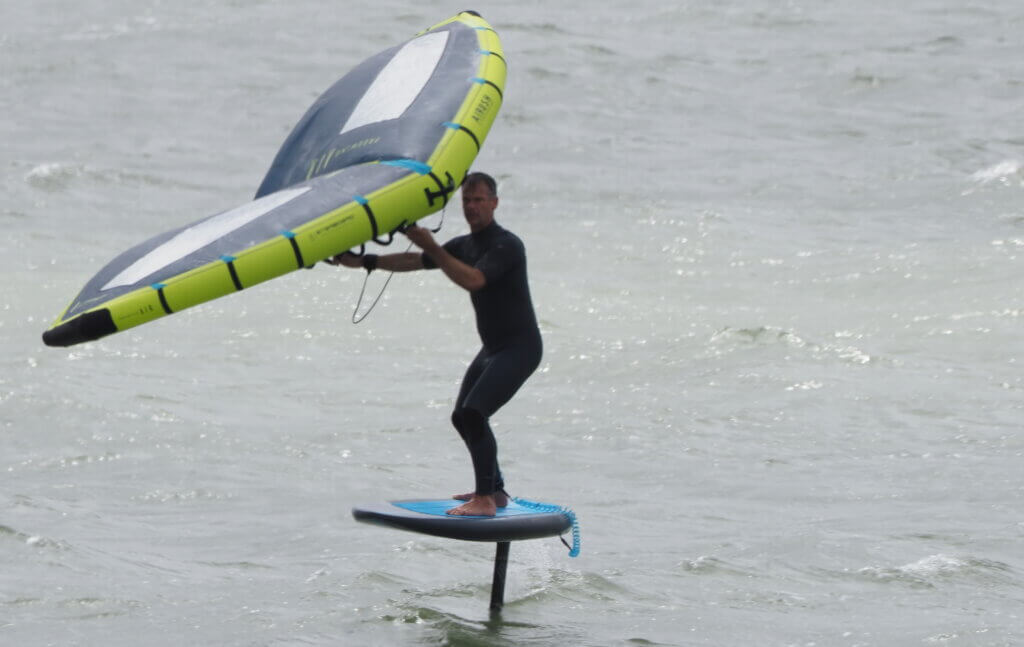 Lesson 4/5
During this lesson, the focus is on being able to stay stable in the air and you will learn how to keep control and you learn to anticipate.
Theory of steering and controlling height/lift
Practice with stable wingfoiling
Further optimize take-off
Practice checking the height
Steering movements with feet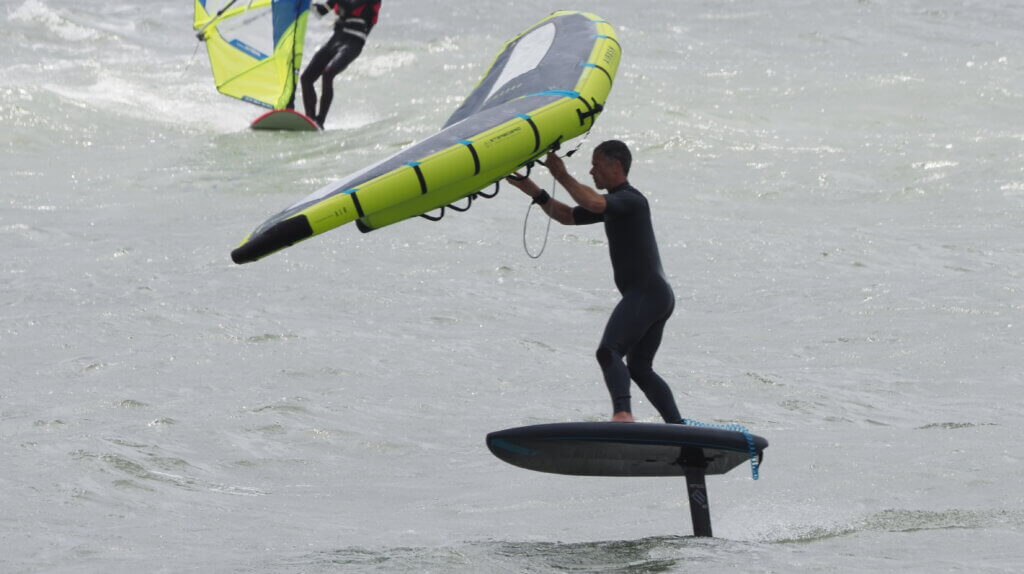 Lesson 5/5
Now that you can wingfoil sufficiently stable, we are going to emphasize agility. Being able to steer, carve and the transition (turning)
Theory transition
Practice wingfoiling
Slaloms to train agility
Practice with switch stance wingfoiling
Deployment of first hostage
Start dates 5-day wingfoil courses
In 2022, wingfoil courses will start on the next dates. You follow the lessons on 5 consecutive Saturdays or Sundays.
5-day Wingfoil courses on Saturdays
Start 9 April (9/4, 16/4, 23/4, 30/4, 7/5 and 14/5 reserve)
Start 21 May (21/5, 28/5, 4/6, 11/6, 18/5 and 27/6 reserve)
Start 2 July (2/7, 18/7, 16/7, 23/7, 30/7 and 6/8 reserve)
Start 10 Sept (10/9, 17/9, 25/9, 1/10, 8/10 and 17/10 reserve)
5-day Wingfoil courses Friday afternoon and summer
5-day Wingfoil courses on Sundays
Start 10 April (10/4, 17/4, 24/4, 1/5, 8/5 and 15/5 reserve)
Start 22 May (22/5, 29/5, 5/6, 12/6, 19/5 and 26/6 reserve)
Start 3 July (3/7, 19/7, 17/7, 24/7, 31/7 and 7/8 reserve)
Start 11 Sept (11/9, 18/9, 25/9, 2/10, 9/10 and 16/10 reserve)
Lesson times
Morning course: start 11.00 am
Afternoon course: start 14:00
Up to 4 people per group
In our groups, up to 4 people participate in the lessons at the same time. This allows us to give everyone enough attention to get the best out of the wing foil lessons During the lessons, each participant will have with their own wingfoil gear to practice with.
What if there's too little or too much wind?
The wind foil lessons continue when the wind forecast is between 8 and 24 knots. If the wind expectation is less or more, we cancel the lesson. We will let you know by e-mail the evening before the lesson (around 18:00) whether the lesson will take place. If the lesson does not take place, we will schedule a new lesson.
Extra lessons needed
Most participants only need 5 lessons. If you want to follow more lessons after the 5 lessons, you can of course. An extra lesson costs € 79,- (lesson duration 2 hours and including material) and you can easily book after the last lesson or you send us an email and we will schedule the extra lesson(s) with you.
Overview costs 5-day Wingfoil course & options
| | |
| --- | --- |
| Items | Price for 5 – day |
| – Costs 5-day Wingfoil course | € 399,- p.p. |
| – Rent wetsuit 5 course days (option) | € 50,- p.p. |
| – Extra lesson (after 5-day wingfoil course (option) | € 79,- per lesson p.p. |
| – Surrender any damage 5 course days (option) | € 50,- p.p. |
First, take a wingfoil introdutieles
Do you have no 'board' experience at all or do you want to get acquainted with wingfoiling first? Then first book a separate introduction lesson. A single introduction lesson costs € 89,-. Click here for more information and books of an introductory lesson.
Address lesson & rental location
Windfoilen Netherlands- Camp & Surf Lelystad
Markerstrekdam 2, 8242 NA (Hookipa Dijk) Lelystad, The Netherlands.
Netherlands
Tel: +31 6 19937879
Email: lessen.verhuur@windfoilen.nl
There is sufficient parking space at this location.
Payment methods
Paying on location is easy with PIN. In our webshop you can pay safely in the most common ways.

Simply book the 5-day wingfoil course
Step 1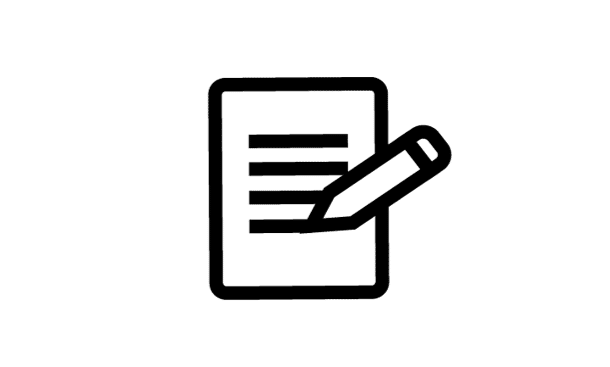 Fill in the booking form and choose the date you want to start. And whether you want to rent a wetsuit.
Step 2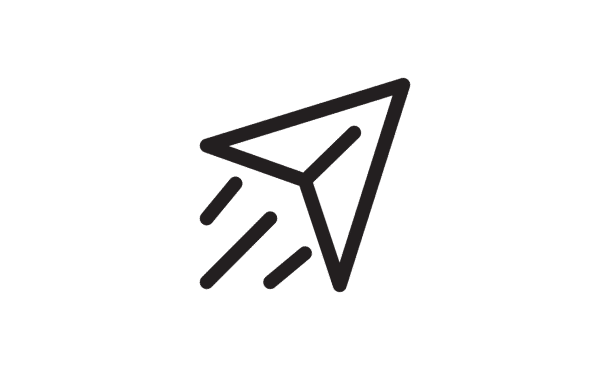 After you have completed the booking form, you will receive a confirmation of your registration within 24 hours.
Step 3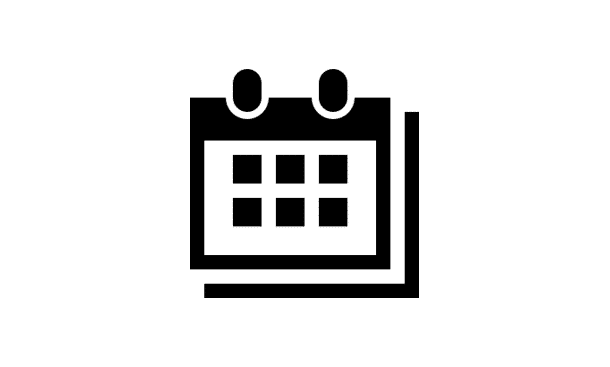 One day before the lesson you will receive an e-mail. If the lesson does not take place because of the wind, the lesson will continue for 1 week.
Step 4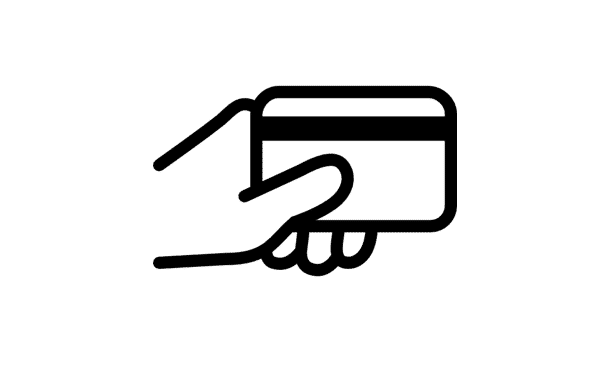 You pay for the 5-day course at the location at the start of the course, preferably with PIN.
Frequently Asked Questions
How many lessons do I need?
Do you need to be able to windsurf to learn how to wingfoil?
How old do you have to be to participate in the wing foil lessons?
Is learning to wing foil hard and intensive?
How can I best prepare for wing foiling?
Can I make up a lesson if I cannot make it on one of the course days?
What happens to the lesson if there is too little or too much wind?
Our lesson and rental location Camp & Surf Markermeer Hookipa Beach
Hookipa Beach Lelystad ideal for foiling
The location where we give our lessons and where you can rent foil equipment is ideal for wind foiling.
On the grounds of Camp & Surf Markermeer we would like to welcome you warmly. All facilities are available for a great day out.
Via a sandy beach of about 20 meters wide you can easily enter the Markermeer. At this location it is sufficiently deep everywhere for wing or wind foiling. In addition, we do not suffer from aquatic plants in the summer season.
Our address is: Markerstrekdam 2, 8242 NA (Hookipa Dijk) Lelystad.
Free parking & other facilities
There are plenty of places in front of the recreation area where you can park for free . There is plenty of space to rig. There are also sufficient sanitary facilities at the location
On the grounds of Camp & Surf Markermeer there are 55 camper spots to possibly spend the night. At Camp & Surf you can also rent SUPs or regular surfboards.
Within walking distance (about 10 min walk) is the largest Fashion outlet in the Netherlands; Bataviastad. This way there is enough to do for everyone.
Wingfoil course fun to give as a gift
Tip! Give 1 wingfoilles as a gift to someone. You can purchase a wingfoil gift voucher from us. The lucky one can then book the wingfoilles with us himself. Look here for more information about the gift voucher.
Book a wingfoil course now for a quick start